Social Licence to Operate (SLO)
Overview and context
The social sustainability of mining operations and other activities and installations in relation to the different subsectors of the raw material value chain is closely related to the local and, where appropriate, regional community involvement and participation in the decisions that will affect them (World Bank and IFC, 2002).
The concept of 'Social Licence to Operate' (SLO) refers to a local community's acceptance or approval of a project or a company's ongoing presence, beyond formal regulatory permitting processes (e.g. public hearing and rights for written interventions). SLO derives from the acknowledgement that stakeholders may threaten a company's legitimacy and ability to operate through boycotts, picketing or legal actions.
From a company perspective, obtaining a SLO is essential for reducing the risk of public criticism, social conflict and damage to the company reputation, which could reduce its profitability.
A formal and agreed definition of SLO is not yet available. The term has been adopted by a wide range of actors in the resources sector, including mining companies, civil society and NGOs, research institutions, governments and consultants. The concept of SLO relates not only to mining, but also to other industries, including pulp and paper manufacturing (Gunningham et al., 2004), alternative energy generation (Hall et al., 2013), nuclear energy, and agriculture (Williams et al., 2011).
The mining sector was one of the themes reviewed during the 19th session of the United Nations Commission on Sustainable Development. In this context, it was stressed that efforts are needed to maximise the positive economic impacts of mining in producing countries. It was also recommended that local communities should be integrated in decision-making processes and that the rights and interests of indigenous peoples are recognised and respected by states and companies (United Nations, 2012 A/RES/66/288 - The Future We Want).
Influencing factors
Different aspects can influence the social licence, for example demands and expectations, legitimacy, credibility and trust, and consent (Parsons et al., 2014). In recent years, substantial research has been conducted to understand public attitudes towards mining and the factors contributing to the SLO (e.g. Litmanen et al., 2016; Zhang et al., 2015).
Some studies highlight that, to obtain a SLO, mining companies have to develop good relations with all the stakeholders; legitimacy, credibility and trust are the main components necessary to achieve SLO (Moffat and Zhang, 2014). Such trust is affected by the extent to which a mining company manages and mitigates operational impacts and the way companies engage with communities and treat community members.
Browne et al. (2011) and Prno (2013) highlight the importance of both the social and the environmental context; establishing good relationships with the community, transparency and information disclosure, good and open communication, public participation and stakeholders' involvement are seen as crucial for achieving SLO. Mining companies should also be sensitive to cultural norms, create realistic expectations, develop fair conflict resolution mechanisms, be consistent and predictable regarding their ethical behaviour and try to accommodate the needs of the community.
Measuring SLO
According to Eurobarometer,in the EU, public acceptance of the extractive industries is low, compared with other economic sectors, while trust in mining companies is generally higher in countries outside the EU.
The Environmental Justice Atlas documents and catalogues social conflicts related to claims against perceived negative social or environmental impacts due to different extractive activities. The frequency and intensity of these conflicts might be used as a proxy for measuring the level of acceptance of the sector.
However, owing to its intangible nature, quantitatively measuring and modelling SLO is particularly challenging and has been contested (Moffat et al., 2016). In order to understand the drivers of social acceptance and derive measures and benchmarks, some large-scale surveys of citizen attitudes have been conducted in the mining context.
A path model developed by Zhang et al. (2015) highlighted the importance of trust in the mining industry and identified the stronger predictors of trust in local communities, for example procedural fairness, distributional fairness and confidence in governance (Figure 1).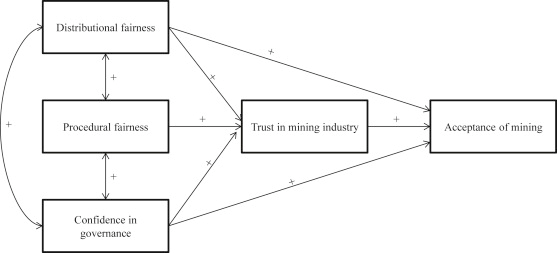 Figure 1 Model of the social licence to operate. Zhang et al., 2015, 'Understanding the social licence to operate of mining at the national scale: a comparative study of Australia, China and Chile', Journal of Cleaner Production Vol. 108, pp. 1063–1072.
The Thomson and Boutilier model (2011) identifies four factors constituting the Social License: economic legitimacy, socio-political legitimacy, interactional trust and institutionalised trust. These factors were used to develop a pool of statements intended to measure the SLO in interviews with mine stakeholders, identifying their level of agreement/disagreement with such statements.