Contributions of H2020 Projects
Selected results from the ProSUM Project for Secondary Raw Materials arising from Waste Electrical and Electronic Screen Flows
ProSUM Project
The EU is reliant on imports of many raw materials, some of which are critical raw materials (CRM). Securing access to those materials is a societal challenge. The aim of the ProSUM project is to provide a state of the art knowledge base, using best available data in a harmonised and updateable format.
Until now, data on batteries (BATT), end of life vehicles (ELV), waste electrical and electronic equipment (WEEE) and mining waste (MW) has been produced by a variety of institutions and has lain dispersed across different databases, formats and reports. This makes it difficult to compare and aggregate data. Moreover, better data and intelligence will help the recycling industry and policy makers with investment decisions and interventions to improve collection and recycling volumes.
ProSUM (Horizon 2020 research and innovation programme, grant agreement No 641999, 2015-2017), funded by the European Union and the Swiss Government, produced the EU Urban Mine Knowledge Data Platform (EU-UMKDP) providing user-friendly, seamless access to data and intelligence on secondary raw materials for BATT, ELV, WEEE and MW.
The ProSUM portal gives centralised  access to charts and maps and includes a search engine currently covering over 800 data sources and documents structured by the ProSUM project for  BATT, ELV, WEEE and MW.
The partners involved in ProSUM can be found here:  http://www.prosumproject.eu/partners

http://www.prosumproject.eu/urban-mine-knowledge-data-platform
Flows of Secondary Raw Materials arising from end-of-life screens
The ProSUM project has quantified the stocks and flows for the WEEE Category Screens as an example.  Screens consist of Cathode Ray Tube (CRT) TVs and monitors, Liquid Crystal Display (LCD) based TVs and monitors, laptops, and tablets. 
Figure 1. Stocks and Flows of Screen products in the Urban Mine in 2015 and elements in reported collection
The figure shows new LCD TVs and monitors plus laptops and tablets placed on the market on the left. Significant amounts of old CRTs are in the 'stock' (often referred to as the Urban Mine from electronics), still being used or stored before actual disposal. The amount of WEEE Generated, being products discarded by consumers and businesses, is estimated at 1.25 million tonnes and is dominated by old CRT products. From this WEEE Generated, close to 50% of the waste flow is captured by producer responsibility organisations and reported to EU member states. Detailed, time dependent ProSUM modelling, has estimated the presence of relevant chemical elements over time. The estimated quantities for 10 of the most relevant elements in officially reported collection are shown in Figure 1 on the right hand side. 
There is substantial trade in laptops and tablets ending up in unreported complementary reuse, recycling and trade channels. As a result, the amount of Indium (In) in reported collection is 25% of the total waste generated (3.8 tons out of 15.3 tons). Slightly over 50% of Copper (Cu) is in reported collection (18.3 ktons of 36.2 ktons). The flows of elements shown in the Figure are estimated totals before recycling.  
Underlying product sales and waste data
To further illustrate the evolution in production and consumption of screens over the last two decades Figure 2 illustrates the volumes placed on the market between 2000 and 2020. Whilst LCD screens have replaced CRT screens with an associated reduction in weight, more TVs are purchased per household, electronic components are getting smaller and screen diameters are increasing, which all have an impact on the stocks and flows of materials. The net effect is displayed in Figure 2 (actual sales until 2015, forward projection until 2020 based on current market trends).  
Figure 2. Quantities of screen appliances placed on market 2000 – 2020 in tonnes and pieces.
The ProSUM approach for determining market input, stocks and WEEE generated has been adopted in the common methodology for determining EU collection rates by the European Commission for the EU28+2[1]. More information on the harmonised ProSUM approach can be found here:
http://www.prosumproject.eu/sites/default/files/ProSUM%20Harmonization%20paper_v3_2016%2010%2012_Final.pdf
Elements, materials and components in Screens
A less visible aspect in Figure 2 is that modern screen devices have a lower average weight per piece due to miniaturisation of components like precious metal rich printed circuit boards.  This affects the secondary raw material content flowing in and out of the 'Urban Mine'. To estimate this, the ProSUM consortium processed and consolidated 133 data sources for screen compositions into a harmonised structure. The results are shown in Figure 3, showing the quantities for Gold (Au) as the prime value driver in recycling, Silver (Ag) and Palladium (Pd), and the critical raw materials Indium and Neodymium over time.
Figure 3a. Selected precious metals and CRMs in screens placed on market 2000 – 2020, in tons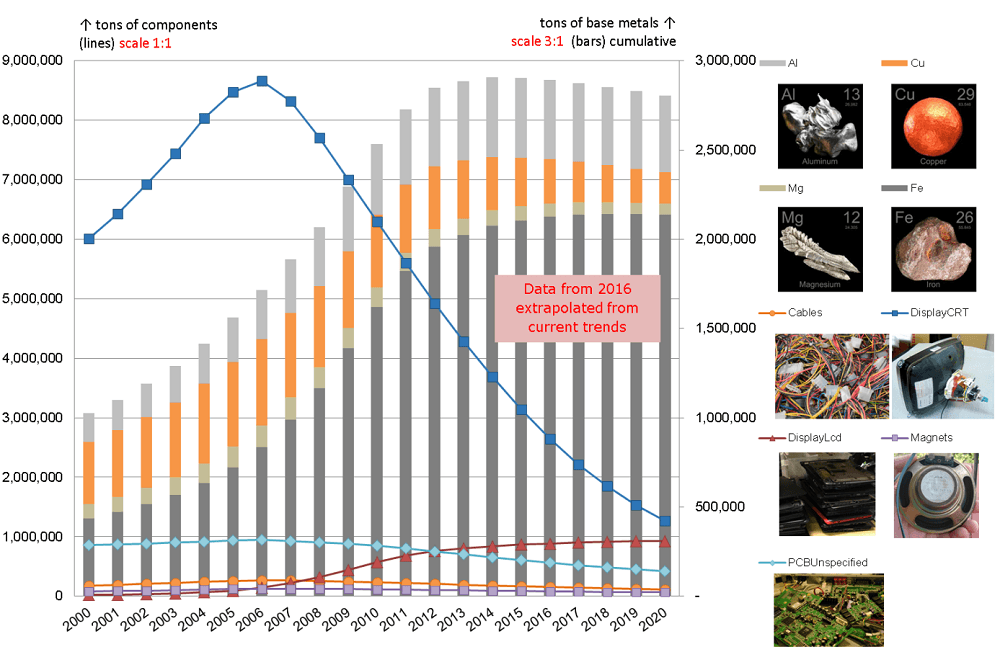 Figure 3b. Selected components (left axis, lines) and base metals (right axis, bars) in stock 2000 – 2020, in tons
As a summary, Table 1 illustrates the substantial amount of raw materials in the urban mine in 2015 from the components displayed in Figure 3b. It shows that Gold primarily comes from printed circuit boards in LCD TVs and laptops plus tablets, mainly due to the large number of products in use. The same can be seen for Indium (In) originating from both printed circuit boards and the LCD screen itself. The highest contribution to the Copper stock (Cu)  for screens is from cables and coils in CRT TVs and to a lesser extent from printed circuit boards.
| | | | |
| --- | --- | --- | --- |
| Stock 2015 (tonnes) | Au | In | Cu |
| CRT TV and Monitors | 8.2 | 14 | 172,000 |
| LCD TVs and Monitors | 52 | 115 | 84,000 |
| Laptops and Tablets | 46 | 21 | 16,000 |
| Total | 106 | 150 | 272,000 |
Table 1. Stocks of Gold (Au), Indium (In) and Copper (Cu) in Screens in 2015 (in tonnes)
More information
The ProSUM platform provides a range of dynamic visualisations for WEEE, end of life vehicles, batteries and mining wastes. The platform contains a synthesis of all available data which characterises the stocks and flows of these products from when they were put on the market until they are collected at end of life. It is also possible to search all reference materials.
For more information:  http://www.prosumproject.eu/contact-us
---