CRM list 2017
The EC criticality methodology is applied to both abiotic and biotic raw materials. The 2016 assessment considered 78 non-energy, non-agricultural raw materials. For the first time, individual assessment results are available for the HREEs, LREEs and PGMs.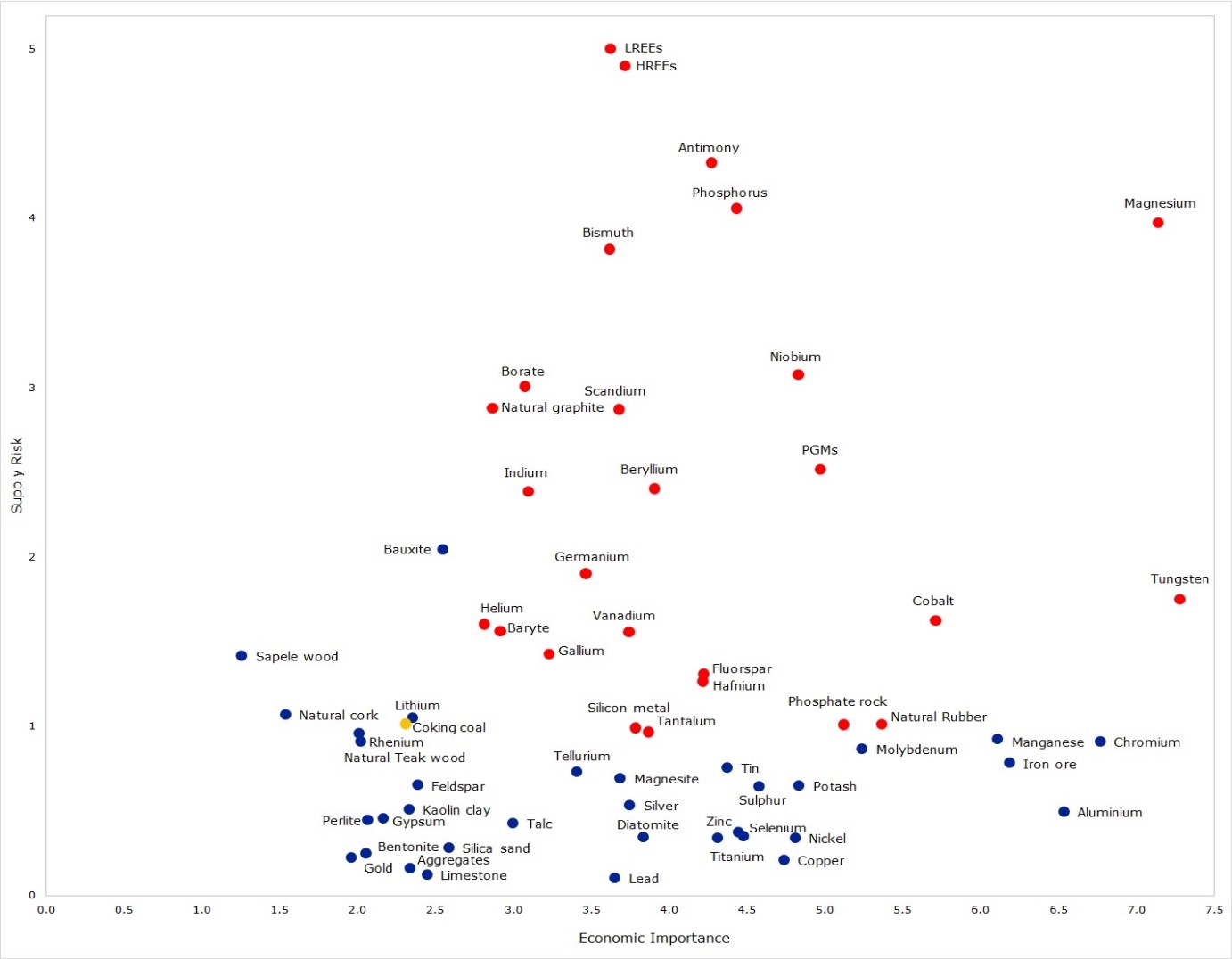 The third list of critical raw materials for the EU
Of the 78 candidate raw materials assessed (58 individual and 3 grouped materials HREEs, LREEs and PGMs), the following 27 raw materials and groups of raw materials were identified as critical:
2017 CRMs (27)

Antimony

Fluorspar

LREEs

Phosphorus

Baryte

Gallium

Magnesium

Scandium

Beryllium

Germanium

Natural graphite

Silicon metal

Bismuth

Hafnium

Natural Rubber

Tantalum

Borate

Helium

Niobium

Tungsten

Cobalt

HREEs*

PGMs

Vanadium

Coking coal

Indium

Phosphate rock

 
*HREEs=heavy rare earth elements, LREEs=light rare earth elements, PGMs=platinum group metals
The third list includes 9 more new materials than the 2014 list: baryte, bismuth, hafnium, helium, natural rubber, phosphorus, scandium, tantalum, vanadium. Three of these are entirely new to the list (bismuth, helium, phosphorus), as they were not assessed in 2014. The 2017 assessment identifies all 14 of the 2011 CRMs as critical. Compared to the 2011 CRMs list, the 2017 CRMs list includes ten additional critical raw materials: baryte, borate, vanadium, bismuth, hafnium, helium, natural rubber, phosphate rock, phosphorus and silicon metal. Chromium and magnesite that were classified as CRMs in 2014 are not in the 2017 list.
All raw materials, even when not classed as critical, are important for the EU economy.
The full documentation about the 2017 CRMs list can be downloaded: