Environmental aspects related to raw materials production
Environmental considerations in relation to the raw materials sector are manifold. Firstly, raw materials pose pressures on the environment through the use of natural resources (land, water, fuel, etc.) and through the emission of polluting substances over the whole life cycle (extraction, transport, processing, use and end of life). Accidents caused by problems in operation or by natural hazards can, in addition, lead to severe environmental impacts.
At the same time, raw materials are essential for industrial processes that allow societies to develop, as defined by the Sustainable Development Goals (SDGs). Indeed, almost half of the 17 SDGs relate to environmental factors that can be directly affected by the activity of the raw materials sector, such as good health, clean water, affordable and clean energy, and climate action (Figure 1). Certain raw materials are also essential for the deployment of green, low-carbon and pollution abatement technologies.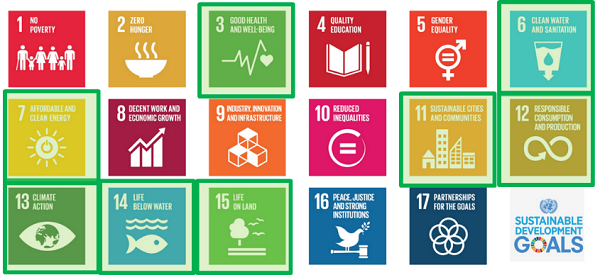 In addition, local environmental conditions, and the varied environmental regulatory frameworks at different locations, determine the suitability of raw materials production itself. Natural hazards, scarcity of resources such as water or energy, or competition with other alternative land uses may prevent the development of an industrial activity or lead to disruptions in the supply of raw materials once the activity has started. Regulations with stringent environmental standards can also result in the phasing out of certain materials.
The 2008 Raw Materials Initiative aimed to promote the sustainable supply of raw materials, from both EU sources and outside the EU, as well as boost resource efficiency and recycling. The Commission has developed a series of actions to promote best practices (e.g. in land use planning), reconcile extractive activities with nature conservation sites, and boost research and innovation in the field of materials and resource efficiency. Moreover, one of the action areas of the European Innovation Partnership on Raw Materials is mitigation of environmental, social and health impacts linked to the raw materials sector. The Raw Materials Scoreboard provides data on several environmental considerations, with a focus on the raw materials industries.
In cooperation with DG GROW, DG ENV and distinguished experts the JRC has published a major milestone report on the legal requirements of preparing an environmental impact assessment of non-energy minerals extraction projects. The 200 page volume supports the harmonized implementation of the EIA Directive accross Europe and along the various extraction types of the different mineral deposits.
Additional references
RMIS related sections
Other